X-Gen® Overview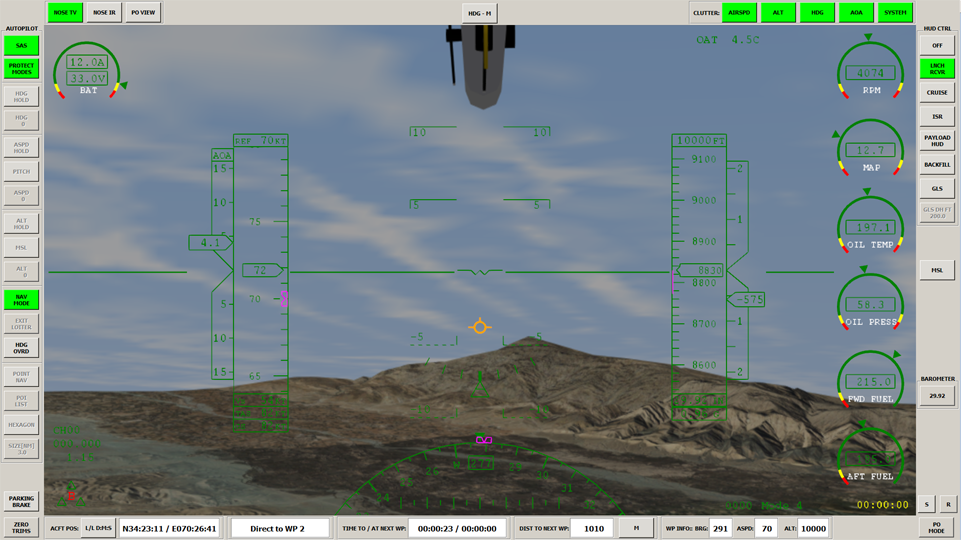 CATI has designed a High-Fidelity Unmanned Systems Simulation Virtual Training and Testing System focused on the unique requirements of the commercial/civil community.

X-Gen® incorporates the latest technology for training payload and air vehicle operators from basic through full-operational, location-specific training, and rehearsal procedures. X-Gen® is based on CATI's proven image generator software for real-time scene rendering of the sensor views. X-Gen® also has an open architecture design which provides a programmable 6-DOF aero-model that supports any air vehicle control, menus, cued symbology, and 2D map display. X-Gen® is scalable to run on a laptop, desktop, or full Ground Control Station configuration. Users have the capability to design and train on custom scenarios as well as add future updates.

The X-Gen® framework has been used to model MQ-1C Gray Eagle, MQ-9 Reaper and MQ-8 Fire Scout unmanned systems. CATI X-IG® image generator systems are the ideal choice for the visualization of simulation training systems. For over twenty years, CATI has been providing unparalleled rendering performance through advanced software algorithms and optimizations.


Air Vehicle Operations

♦ Automatic Flight Control System (AFCS)
♦ Flight symbology 2D map display with Airspace situational awareness
♦ Route planning
♦ AV checklist operations
♦ High-fidelity fixed-wing and rotary-wing air vehicle modeling
Payload Operations

♦ IR - TV - EO payload sensor views
♦ Sensor pan and zoom
♦ Laser ranging and designation
♦ Geo-stabilized point and entity tracker
♦ Multiple electronic/digital zoom and focus
♦ Sensor fusion IR & TV - IR & EO
♦ Contrast-based Image Auto-Tracker (IAT)
Standard Interfaces

♦ Distributed Interactive Simulation (DIS)
♦ High-Level Architecture (HLA)
♦ CDB and SECORE compliant
♦ Extensive libraries of world-wide geo-specific, high-resolution database
♦ Rapid placement of database features using the Environmental Modeling Editor (EME ) for fast turnaround and reduced cost
Export Control

♦ X-Gen® is approved for export Civilian and Commercial X-IG® sales are subject to the jurisdiction of the U.S. Department of Commerce in accordance with the Export Administration Regulations as EAR-99
UAV/RPA Parameters

♦ Multiple air vehicles; fully tunable in size, endurance, weight or payload
♦ Pilot or sensor models selectable on a single workstation
Instructor Operating Station

♦ Network control of multiple X-Gen® student stations
♦ Scenario and lesson plan selection
♦ Atmospheric effects control Multiple cloud, fog, and haze layer models
♦ Continuous time of day based on geographic location
♦ Activation/deactivation of emergency procedures either manually or through pre-selected criteria
♦ Automated monitoring and logging of trainee actions under emergency procedure